Sony has pioneered and pushed the boundaries of digital imaging for years. "S-Frame" has proven to be another popular product in this tradition since these digital photo frames were introduced in 2008. The line aptly frames the designers' ideas about the essence of photos and the potential of digital photo frames, their starting point in this project. This great interview courtesy of Sony Design shows you that this isn't just a simple digital photo frame after all.
Daisuke Ishii, Senior Producer,Creative Producer, Sony Marketing (Japan) Inc.
Katsuhisa Hakoda, Senior Designer
Shingo Kurokawa, Designer
Koji Arai, Designer
Miho Akita, Designer
Ishii: The "S-Frame" line was created in 2008. For us it was a long-awaited launch. After all, Sony was one of the first companies to anticipate the fun of digital photo frames. We had released the CyberFrame (PHD-A55) back in 1999. Digital cameras were not as prevalent then, though, and the frame's internal components were costly. The product was ahead of its time, so we had to wait a while before resuming development.
Now, digital photo frames are no longer unusual. Unfortunately, the materials of most frames on the market are hardly attractive, and they're presented as novelties of technology. Most notable, none of them is better than a simple photo viewer, for playing images. Under the circumstances, our first step before relaunching Sony frames was to rethink what digital photo frames should be. We ultimately decided that because photos are the next best thing to memories themselves, we wanted our frames to be a way to revisit those moments and remember how you felt, instead of merely viewers for looking at digital photos. On a practical level, this involved a little ingenuity in the user interface, which offers clocks and calendars. "S-Frame" design thus stems from guidelines that integrate this user interface design nicely into the overall industrial design.
Industrial design for the frames introduced last year was determined after a related design competition at Sony. A key concept from the competition was that after all, what should play the leading role in digital photo frames is digital photos. To showcase the images presented, we sought frames of the simplest, most minimal forms. We expressed this by covering the front of the frame with a single clear panel. This gives an appearance more like a black glass panel than an ordinary picture frame. In V series frames, a semi-reflective coating is applied outside the image "window." This created our desired effect of images appearing to float on a mirror. The style is also used in this year's X series frames, and it defines the visual identity of the "S-Frame" line.
Hakoda: We were already into our second year of "S-Frame" models developed from these concepts. How could we maintain the minimalist aesthetic while expressing a sense of freshness and innovation? That was my task when managing industrial design for 2009 models. New X series frames would also be thicker, from the high-definition LCD panel. To keep the frames looking sleek, it would be critical to apply effective design. We resolved all these issues at once in the X series by creating surfaces that taper toward the edges. You can notice this when comparing the new and old frames from an angle. Besides demonstrating minimalist style in a compact body, previous models have clean, chiseled edges. This would make the X series look quite thick, so we took the opposite approach. We deliberately stretched the bezel outward, making the edge thinner, which asserts a sense of presence while slimming down the frame. The outer edge defining the frame is also narrow, and rounded. Ambient light captured along the edge further accentuates the frame's slender profile.
X series frames alone have a front panel of glass instead of acrylic. It was a logical choice. We wanted a smoother front surface, and we needed a material strong enough to withstand being sealed to the screen with resin (to prevent glare). Using resin sealing for an LCD panel this large is probably unprecedented, but the benefit is clear. It reduces glare dramatically. Images look as clear as if they were taped to the glass surface of the frame. And the smoothness of the glass enhances the general feeling of quality, enabling a luxurious finish.
Hakoda: If you like using frames in portrait orientation, you'll appreciate X series design. You may not have realized it, but if a frame is designed to match the aspect ratio of the screen, it looks surprisingly narrow and unstable in portrait orientation. Even I was startled by this, when I saw the first rough mock-up. We examined successive frame prototypes as we fine-tuned the ratio of frame height to width, 2 mm at a time, until we had a reassuring, balanced proportion.
On back, the memory card slot is neatly concealed behind the cover. This helps keep the slot free of dust even when the frame is in portrait orientation. As for the stand, it simply screws in. When hanging the frame on a wall, unscrew the stand and store it on the back of the frame, where it's held by magnetic force. This prevents the stand from being lost when not in use. In a way, it's more reliable than a hinge.
Kurokawa: Equally important as industrial design in the "S-Frame" is the user interface. As mentioned, we wanted to demonstrate how photos represent memories, and the most direct example of this in the photo frames is probably the "Time Machine"* slideshow mode. In this mode, time is virtually "rewound" to past moments as the frame switches from one image to another. This animation and the pause at each moment invites viewers to reminisce about when the photo was taken.
Time Machine and other slideshow modes are neat and classic in appearance. We want the frames to be a welcome addition to any room. Rather than distracting owners with an attractive frame, we sought an unobtrusive appearance that blends in perfectly. For the same reason, the effects are by no means flashy or dazzling. Transitions are gradual and natural, because the photos are most important. The thinking behind these slideshows is different from our approach in "Cyber-shot" slideshows, which we hope capture your interest with effects and music.
How the display looks without images was also something we were sensitive to, a sign of customary Sony dedication to design. Full-screen display of clocks or calendars is possible. Probably few products on the market can be changed into clocks as an alternative mode of operation. During this interface work, I imagined what Sony clocks would look like. In the past, our pursuit of a screen that blends into the background led to simple interfaces. But 2009 models expand the frames' repertoire, introducing some engaging interfaces with effective animation, so you now have more display options.
We did face the issue that the same interface gives a different impression at various screen sizes and resolutions. To compensate for this, we made subtle adjustments for each model. We could not compromise in the clock and calendar design just because the product is primarily a digital photo frame; we considered these primary functions, too. I was delighted to hear that owners like these features.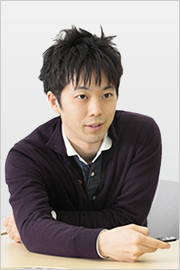 Arai: Other new features can also be found in the user interface of the 2009 line. I helped implement a feature that turns the frame on and off automatically.* You can program when the frame goes on and off each day of the week. For example, there's no need to keep a frame in your living room on overnight. Or on weekends, having a frame on your office desk automatically switched off is better for the environment. For users who value eco-friendly products, I think it's a thoughtful, convenient feature.
You might not think the feature is needed, particularly on X series frames, which have physical buttons you can use to control the power. But besides improving energy efficiency, the feature resolves the matter of whether owners will take the time to turn the frame on again, once it's off. We might have an impulse to turn on a television or stereo, but for digital photo frames, it's a different story. Even I never really knew whether I would make the effort to turn my frame on every morning. But without a doubt, I'm happier when images are already playing when I wake up, and it makes my day a little more enjoyable. By chance, I notice images I didn't really have a chance to see, and I reminisce. It also inspires me to take more photos. Now there's an effortless way to enjoy these photos and memories every day. That's the true value of the auto on/off feature.
Here's another nice touch: settings can be adjusted in portrait orientation. After you take the frame off a wall, for example, there's no need to rotate the frame. You probably won't be changing the settings on a digital photo frame as often as you adjust other products. But those rare times you do, we wanted to support you with user-friendly design, so we made the extra effort.
Akita: A few color options are available in the "S-Frame" line. Black, white, and brown are offered in Japan. Overseas, it's also offered in red. Each color was carefully chosen to complement most interior decor.
Although they're all traditional colors, there's a reason for this. The "S-Frame" line is especially popular as gifts, and when shopping for others, people tend to avoid colors that are likely to please some people but not others. This was our foremost consideration when deciding the colors.
But picking a color should also be enjoyable. Brown and red frames go well in many settings and expand your options, in consideration of personal tastes. The color palette also matches "Cyber-shot" cameras, for a sense of consistency throughout the experience of shooting and viewing photos.
In each color, we were meticulous about achieving the ideal hue. Cut corners in color design, and you wind up with products that look "heavy" and cheap. Instead, we had specific finishes in mind. Brown and red with a luxurious sheen and depth. Porcelain white. The hue and balance are adjusted through several coats.
Ishii: We mentioned that the frames are popular as gifts, so I should add that the packaging was developed with gift-giving in mind. Remove the outer box, and you'll see another box inside. We did this so that people can buy a frame and add digital photos to it before giving it to a friend or loved one. And because the gift box reflects the sentiment of the giver, we include protective cushioning made of molded, colored recycled material instead of cheap cardboard.
When the "S-Frame" is used or given as a gift, it ceases to be just another product. For some people, it represents memories, and for others, a message of gratitude or encouragement that can't be expressed in words. Maybe what we actually sought to design here was these intangible experiences.