In this brilliant Sony Design feature design article about the NAS-V7M/V5, Sony explores the progression of the mini hi-fi market and how Sony has changed their perspective on its future. The elusive and feature rich NAS-V7M/V5 is an exotic Walkman dock/mini hi-fi system released in Japan several months ago.
Sony Corporation's Creative Center Senior Manager Akio Suzuki, Producer and Senior Designer Yasufumi Yamaji, and Designer Yusuke Otani all tell the story of how this unique Sony product came to be.
Suzuki: A trend has emerged in audio product categories in recent years. The mini hi-fi market is shrinking, but dock speaker systems without CD players have become more popular. It's a sign that people's listening habits are changing. Instead of shopping for CDs, people are buying music online. And people just play the music stored on their Walkman player or computer through their stereo. This is more common than ever.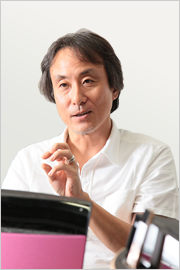 Still, some surveys reveal that eight out of ten people listen to CDs, too. People value their CD collection, and many are looking for a compatible system that captures their interest. This category holds a lot of potential, so we wanted to breathe some new life into it.
Some features of the new systems in this project had been decided at the beginning-Walkman compatibility and Wi-Fi streaming. You won't be tethered by an Ethernet cable if you want to enjoy the music on your Walkman or computer, or tune in to Internet radio stations. After all, discovering great music not already in your collection is a new and compelling feature of these units.
It was our task as designers to restyle these new listening habits. Starting from the assumption that we'd be thinking outside the box in audio styling, we discussed as many ideas as possible as we narrowed down the themes we wanted to explore. This was a fresh start, unconstrained by preconceptions or old habits. But choosing a worthwhile approach from unlimited possibilities proved quite a daunting task.
Yamaji: Yusuke and I brainstormed about design. Mini hi-fi systems call to mind a main unit and two speakers-essentially three separate components. On front, there's usually a volume knob and a screen, and below this, a CD tray. It's an appearance that defines these systems for most people. In this project, though, the system wasn't tethered by an Ethernet cable, so we were free to adopt a portable style. Something as transportable as a CD radio boombox. We found ourselves drawing sketches from many angles.
Just how important it was to complement interior aesthetics became clear as we explored these ideas. Conventional three-piece sets don't complement modern interiors. You can only install them in some places, facing a particular direction, and they're cluttered with distracting lines and buttons. It's time that people stop compromising. These systems should go well with interiors, and we should be able to put them where we want to relax, in the best position for listening.
Otani: Ideally, it should be sculpturesque. Sculptures are quietly assertive in any room, and they accent the interior design. For this effect, we sought a powerful, unadorned shape to let the unit "speak for itself" in design.
The first thing you'll notice about the shape is that the front surface is tilted back 15°. This is the perfect angle for viewing any Walkman players in the unit, as you look down at it, and at this angle, the front mesh shimmers with light shining down from above. You'll also notice the gently curved front surface, which recalls the full soundstage it reproduces. The back is curved, too. Both curves converge on either side, creating an organic shape that looks like a leaf, from above. It's a perfectly logical shape to wrap around the space for the CD player and speakers inside. It also helped us reconcile contradictory needs-a body large enough to remind you it's powerful but sleek enough to seem slim and not overpowering.
Surfaces are distinguished by different functions and finishes. The speakers on front are covered by mesh, for example. The control panel that users touch has a matte finish, while the tilted display screen is glossy. On the screen, we chose this finish for the effects it creates. It's pleasantly surprising how the information displayed appears to hover in a totally black space, and the upright reflection of Walkman players in the unit looks beautiful.
Otani: We also paid attention to how the back looks. On most mini hi-fi systems, the back panel is like backstage at a theater. With vents and ports exposed, it's usually the part of the system you want to hide. In contrast, the back of the NAS-V7M/V5 is neatly organized, and you don't need to put it against a wall. It looks stylish even from behind, or in the middle of a wide living room partitioned by low furniture. This arrangement is popular now, because living rooms look more open and have separate zones for relaxing in various ways, but only a few high-end audio systems look this nice on a partition.
Unlike how awkward it looks when traditional, boxy systems are installed at an angle, the gracefully tapered sides and neat back panel of these models eliminate any distractions if you place them at an angle. In this regard, you won't find other systems that can be freely positioned for the best listening experience wherever you relax.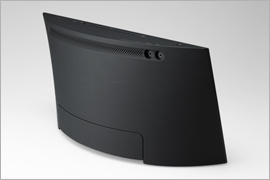 Otani: The final shape that emerged after we narrowed down the desired appearance is remarkably simple, but to make it happen, we had to clear many engineering hurdles.
After product design, practical engineering requirements often give rise to details outside the scope of the designers' vision. In this case, screw holes in unexpected places, grooves to facilitate assembly, and other details threatened to ruin the simple contours we had in mind.
Similarly (focusing only on what's easier to manufacture), rounding off the front edges would make the mesh more resistant to tearing, and a wider gap between the display screen and control panel also seemed practical. That's because the control panel is made of ABS plastic but the display screen is an acrylic panel, and these materials expand and contract differently based on temperature and humidity. If they push against each other, they might warp or even come off.
Fortunately, our engineers solved one problem after another to keep the final product faithful to our original design sketches. In both design and engineering, we were prepared to take on the challenges of breaking the mold in styling. For me, the project proved that at Sony just as in general, good design can motivate people.
Yamaji: Once the product had taken shape, we focused on the materials to use. Because the unit has such clean lines and contours, the feeling of the materials has a tremendous impact on the impression it gives. In particular, I insisted on just the right front mesh. For a good match with interiors, I sought a finely woven texture, as is used for sofas or curtains; something organic, but with an elegant sheen.
My options were limited, though, because Sony maintains strict quality standards even for mesh, in criteria such as flame retardance. Normally I would have to choose from a range of approved textiles. This time, I began by finding samples with ideal textures, focusing on fabric for clothing and interior furnishings. Using the samples as my guide, I created fabric that would meet our quality standards. Although I was lucky to find existing patterns that essentially matched what I had in mind, finding thread with the perfect metallic sheen was a matter of trial and error up to the launch date.
One attempt after another, probably a dozen design models in all. But this work paid off in the high-end NAS-V7M in particular, which is covered in lustrous fabric reminiscent of metallic surfaces. I doubt that mesh this luminous has ever been used in a mini stereo system.
Yamaji: With a product so carefully designed to complement interiors, we feared that people would have a hard time appreciating this design statement in regular retail environments. Ideally, we wanted to introduce the system under the right conditions to people with discerning taste in interior design, so we took the initiative. Project members in design and product planning collaborated to seek display opportunities in interior shops, cafés, and similar settings.
Store managers proved very receptive, and we were grateful for the chance to show the system this way. And the fact that professional interior designers liked them-that was quite encouraging to us. In coming months we'll also show the system in condominium model rooms, hotel lobbies, Internet cafés, and other sites.
Suzuki: Conventional high-end audio systems call to mind luxurious styling in aluminum or other fine materials. But citing expense, manufacturers have compromised by applying a metallic finish over a plastic body, or by using other fabrication methods. For some time, people have accepted these approaches.
Especially now that people have more refined taste in both product design and interior design, we reject this approach of copying upscale equipment but with cheaper materials and special fabrication. Instead, we're tempting consumers to bring units with unprecedented style into their living room. This is the change of attitude we sought. As we redefine audio systems to offer people a more enjoyable listening experience, we must continue to focus not only on features and audio performance, but also on people and their listening environment.