Searching around for Sony stuff on the Internet can lead you in some random directions. I recently came across a picture of Akio Morita, a co-founder of Sony Corporation, holding a Mavica. It inspired me to learn more about this product. Many of you probably have never seen this interesting camera from Sony's past, but let me tell you about it..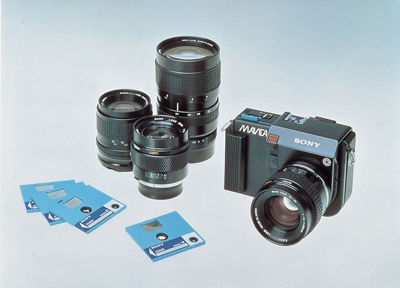 On August 25, 1981, at a packed conference in Tokyo, Sony unveiled a prototype of the company's first still video camera, the Mavica (Magnetic Video Camera). It recorded images on two-inch floppy disks (later the industry standard Video Floppy) and played them back on a TV set or Video monitor. The Mavica was not a digital camera, but a TV camera capable of writing TV quality stills onto magnetic disks, with a shutter that would allow it to freeze frames within the limits set by twin-field interlace making up the complete frame. The Mavica was a single lens reflex with interchangeable lenses.
The original Mavica was provided with three bayonet-mounted lenses: a 25mm f/2, a 50mm f/1.4, and 16-65mm f/1.4 zoom. CCD size was 570 x 490 pixels on a 10mm x 12mm chip. F/stop was controlled manually according to lighted arrows that appeared in the viewfinder. Light sensitivity was rated at ISO 200. The original Mavica had only one shutter speed, 1/60th second.
Each image was recorded in its own single circle on the floppy disk that Sony called the "Mavipak." Up to fifty color photos could be stored on one Mavipak. Multiple exposure of 2, 4, 8. or 20 images could be selected. The Mavica was powered by three AA-size batteries. Images were displayed on a television set and were considered to be equal in quality to the maximum capability of a TV set of that time.
Here is the original Mr. Walkman*, Nobutoshi Kihara, displaying a prototype model of Sony's digital camera Mavica, during an interview with AFP reporter at Sony's affiliated laboratory crowned with his name Sony Kihara Laboratory in Tokyo 13 June 2006. He retired the same year.
Obviously, the the Mavica line has been discontinued, as flash memory rendered tape formats useless in numerous aspects for point-and-shoot cameras. Do you remember the Mavica?
* – Mr.Walkman is a favored nickname of Nobutoshi Kihara, who sketched out designs for the revolutionary Walkman on a piece of paper.