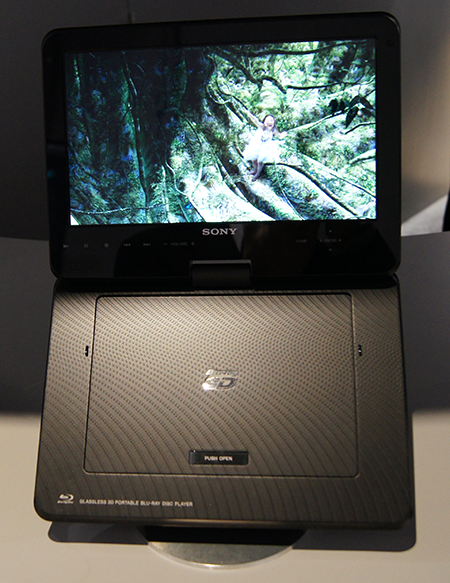 Sony had many interesting demonstrations of upcoming/concept glasses-free 3D technology at CES 2011. An interesting character in that group was the little "Glasses-free 3D Portable Blu-ray Player," which allows you to spin 3D movies anywhere, without glasses.
The specifications are pretty straightforward for its small size, as it sports a normal 10.1″ LCD at 1366×768, which can play HD at that resolution. The 3D effect is not as bad as you would think. After spending several minutes watching the various demo footage I was slightly impressed. There was dimensionality around objects, but it wasn't anything mind blowing. When the character (in the photos below) was walking around the forest I could feel the layers of scene around her, and the trees seemed authentic at certain points. At other points it was lackluster. I think it will still be a really unique device that could appeal to those who have Blu-ray 3D movies.
Could it also be a product that entices someone to get into Blu-ray 3D? Hard to tell. If I had the money to throw around I might get it for the family. Maybe if I traveled a lot.
Would you buy a product like this?
The styling on top of this Blu-ray player was radical and embossed with a high gloss, carbon-fiber ribbon top with a lush shade of subdued neon blue. It, like many other products for Sony at CES 2011, represented even bolder style experimentation than previous generations. There is no doubt this device would attract attention. And fingerprints.
[sthumbs=2210|2212|2213,160,3,n,center,]