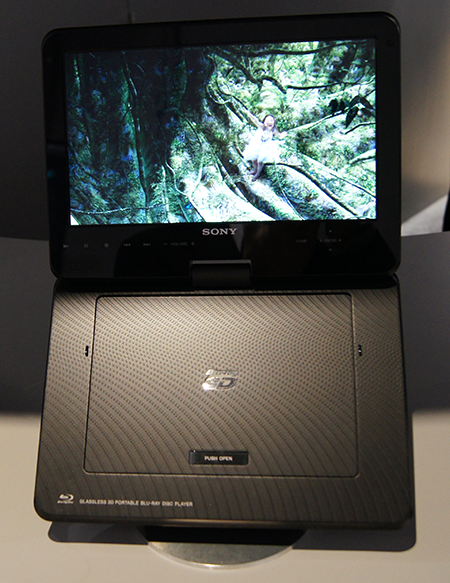 Sony had many interesting demonstrations of upcoming/concept glasses-free 3D technology at CES 2011. An interesting character in that group was the little "Glasses-free 3D Portable Blu-ray Player," which allows you to spin 3D movies anywhere, without glasses.
The specifications are pretty straightforward for its small size, as it sports a normal 10.1″ LCD at 1366×768, which can play HD at that resolution. The 3D effect is not as bad as you would think. After spending several minutes watching the various demo footage I was slightly impressed. There was dimensionality around objects, but it wasn't anything mind blowing. When the character (in the photos below) was walking around the forest I could feel the layers of scene around her, and the trees seemed authentic at certain points. At other points it was lackluster. I think it will still be a really unique device that could appeal to those who have Blu-ray 3D movies.
Could it also be a product that entices someone to get into Blu-ray 3D? Hard to tell. If I had the money to throw around I might get it for the family. Maybe if I traveled a lot.
Would you buy a product like this?
The styling on top of this Blu-ray player was radical and embossed with a high gloss, carbon-fiber ribbon top with a lush shade of subdued neon blue. It, like many other products for Sony at CES 2011, represented even bolder style experimentation than previous generations. There is no doubt this device would attract attention. And fingerprints.
Sony has launched the next generation Sony Dash at CES 2011, which are destined for the US market in Summer 2011. The basic version carries many of the features in the original, such as access to over a thousand apps (chumby), a 7″ LCD touchscreen, Wi-Fi, headphone jack and more.
Notable differences include a slight tweak in aesthetics, as well as a larger speaker on the rear of the device.
Sony is also releasing a Sony Dash Portable model, which has the same features as the regular version but includes a built-in lithium-ion battery for mobility. Our birdies said the battery life was only several hours. Color options for the Portable include brown, orange and slate blue.
We'll let you know more about the refreshed Dash once we hit the show floor.
2010 was an incredible year in many ways for Sony as a brand, its social media team and Sony Insider's role in that circle.
Every year we like to share the top ten stories that received the most hits on the site. This year's list is rather interesting because it signals to me Sony Insider, while it has great coverage of news, has also become an informative tool for consumers when they want to learn more (and purchase) Sony products. We also noticed that many stories from 2009 are still receiving healthy traffic.
I hope we can do an even better job of being a source of news, reviews and everything else Sony in 2011. We will be following up this post with another list of our favorite memories of 2010, and our thoughts on what Sony needs to do in 2011. Happy New Year!
Thanks for reading!
September 14th – Every year in Japan, Sony holds a special Dealer Convention that shows off the latest products and a glimpse of what is coming. The event, held this year in Shinagawa, Tokyo, has always been interesting as sometimes reveals products and prototypes that Sony hasn't even announced yet. While the big focus at this year's Dealer Convention was 3D products, there was also a small exhibit showing a very exciting development that could one day be used in future Sony Reader devices.
April 12th – Sony Europe announced a new and improved Sony Wearable and Water Resistant Walkman in their W series. The Sony NWZ-W250 is actually water resistant, something that its cousin W202 has had issues with. You also get a new look, a new stand and of course Sony acclaimed superb sound. NWZ-W252 is offered in a 2GB of storage in the USA and 4 Gb to store your techno or whatever music you like to work out to.
August 12th – The fall season in the USA always brings an update to Sony Reader devices, and we were the first to deliver concrete information about the new models – PRS-350 and PRS-650. Sony has been under pressure in the E-Book Reader product category as they face increased competition from rivals Apple (iPad), Amazon (Kindle), Barnes & Noble (Nook), and a hodgepodge of other companies.
August 24th – Inside Job is a documentary from Academy Award nominated filmmaker, Charles Ferguson ("No End In Sight"), and is the first film to expose the shocking truth behind the economic crisis of 2008. The global financial meltdown, at a cost of over $20 trillion, resulted in millions of people losing their homes and jobs. Through extensive research and interviews with major financial insiders, politicians and journalists, Inside Job traces the rise of a rogue industry and unveils the corrosive relationships which have corrupted politics, regulation and academia.
Narrated by Academy Award winner Matt Damon, the Inside Job "cost over $20,000,000,000,000 to produce." Be sure to also check out the Inside Job official website and Facebook page.
January 19th – Sony Computer Entertainment Asia announced that the company has formally started PlayStation business in Socialist Republic of Vietnam, making the one of the world's popular computer entertainment systems and services available to the PlayStation fans and consumers in the country.
January 21st – According to dozens of forum users at Notebookreview.com, apparently owners of the powerful Sony VAIO F Series VPCF112FX/B, VPCF11JFX/B, VPCF11MFX/B and VPCF1190X CTO were experiencing an odd high pitched whine or buzzing sound (aka whining) while using the laptop. The issue caused several consumers to call Sony for support, but they were unable to provide a fix over the phone – this led to several of the laptops being returned, exchanged, and so forth. However, after observing the forum topic it seems that the problem resides within the microphone built into the laptop itself, and with a few simple clicks this issue can be temporarily resolved. Sony eventually provided a full fix for this issue.
January 22nd – The XPERIA X10, also known in Japan simply as Xperia, came to the massive wireless carrier DoCoMo yesterday amid great reception. However, what's truly odd about this 1Ghz, 4 inch screen Android phone is that the battery life figures have been relatively unknown up to this point. Even Sony Ericsson's global site has never listed the battery life figures in its specifications. This left many curious as to how long it could actually last.
January 10th – One of the most overlooked announcements by Sony at CES 2010 was the new iPhone/iPod Touch application called "BD Remote" that is compatible with all 2010 Sony Networked Blu-ray Players. Well I guess it wasn't that overlooked after we published a nice hands-on with the interface.
April 13th – The XPERIA X10 is truly outstanding as SE's first Android device, and has some features that really shine in comparison to the competition. The design is also just so stunning, and reminds me of the Monolithic Design concept we've seen with Sony's other products. However, after using the phone daily, it became obvious that there was a big problem – the battery life. The battery was draining way too quickly, even in standby mode. I tried some application management programs, and so forth, but it still seemed less than what I'd hoped for. This post originated before a firmware fix that corrected some problems, and visitors left comments with other tips.
Sony Ericsson's major device for AT&T in 2010 was the XPERIA X10. With specifications straight out of Star Trek, is one of the most advanced devices ever released by Sony Ericsson. However, the new iPhone 4, despite its shortcomings, has set the bar in smartphone functionality that is nearly unmatched by other devices. We put the XPERIA X10 (specs courtesy Sony Ericsson) head to head with the iPhone 4 (specs courtesy of Apple) in a detailed specifications comparison.
Music Unlimited, powered by Qriocity, is a cloud-based music service by Sony that allows consumers to access millions of songs for a small subscription fee. Major labels such as Universal Music Group, Sony Music Entertainment, Warner Music Group and EMI Music as well as leading independent labels and major publishers worldwide are on board for a combined initial offering of over six million songs (with promise to expand over time).
Content can be played on a variety of devices, including "Sony's 2010 (and surely 2011) models of network-enabled BRAVIA TV, Blu-ray Disc player, Blu-ray Disc Home Theater system, PlayStation 3 computer entertainment system as well as VAIO and other personal computers. It will also become available on a wide range of Sony's portable devices, as well as on Android-based mobile devices and other portable devices."
Music Unlimited sure seems like an interesting alternative to Pandora and other streaming solutions, but then again it isn't free. Hard to tell if it can beat my trusty Wunderradio, though.
Prices are reasonable, coming in with Basic (£3.99 in the U.K. and 3.99 Euros in Ireland) and Premium (£9.99 in the U.K. and 9.99 Euros in Ireland) options. There's a load of features in the premium service, such as Top 100 channels for many genres, personal playlists, ability to listen to songs on-demand, and more. It also adapts to your listening habits and offers better music through analyzing your collection, ratings, and so forth.
The service is currently only available in the UK and Ireland, but will come to the USA, Australia, Canada, France, Germany, Italy, Spain, and New Zealand "during 2011." I would image it will be all over CES 2011.
We have some high resolution screenshots of Qriocity Music Unlimited courtesy of Sony global press. I think the images are worth looking at (in addition to our initial coverage of the Music Unlimited launch) and show how the service looks on the PS3, BRAVIA devices, and even the player built on their website, music.qriocity.com.
The Music Unlimited interface for web browsers (Chrome, Firefox, IE, etc) look pretty polished for its first version. You can see here in the channel view a rather coherant interface. Controls are at the top, including repeat or random options, and the ability to like/dislike. I would like to see larger, easier to use like/dislike buttons. Other controls include volume, search, previous track, next track and pause. Below that is the album art, and recommendations as well as Music Sync, which allows you to add your music collection and listen across all supported devices. Nice.
Then we have the channel listing itself, where you see a varity of genres, including tabs for premium, genre, SensMe, and Era. I love the option of Era, that means you will see channels such as 1940, 1950, 1960, etc..
Then there is the interface for BRAVIA products such as TV's, Blu-ray players, home theater systems, etc which is not as glamorous as the PS3 version, but is functional across the board. The interface is consistent with the Qriocity Video service. I like the "How It Works" touch..
The channel listing in Music Unlimited for BRAVIA Devices.
Here is a stunning (and resized) 1080P grab of Music Unlimited's album view for PS3, which is also displaying high resolution album covers and an excellent looking, easy to use interface. This would be nice to have on for a party.
The following image is a taste of the menus in Music Unlimited full of gloss and reflection in the PS3 version.
The Music Unlimited channel selection screen on the PS3, showing many genres. We can see already thatt they will have Jazz, Rock, Dance & House, Pop, Latin, Blues, Punk, Electronic, Alternative, Rap, R&B, Reggae, Classical, and New Age just like the website.
Sony is hitting LG with accusations that the South Korean company violated US trade rules by importing mobile phones and modems that infringed Sony patents, according to Reuters. If successful, Sony's complaint to the US International Trade Commission could block LG from importing phones to the USA. A separate Los Angeles federal court filing is seeking fines.
The patents in the suit involve audio and microphone devices in phones, caller ID technology and transmission power. Life isn't so good for LG, as the company also infringed on patents of some of Sony's licensees, including Sony Ericsson, Samsung, and Nokia.
More than ten LG phones were listed in the complaint, including the Encore, LG Accolade, Neon, Quantum, Rumor Touch and others.
LG spokesman John Taylor said in an email that it is company policy not to discuss pending litigation. Spokeswoman Na Joo-Young told AFP: "Based on results of our review, we will take action and actively respond" to Sony's move.
The ITC case is In re: Certain Mobile Phones and Modems, U.S. International Trade Commission, No. 337-TA. The California case is Sony Corp. v. LG Electronics USA Inc. et al, U.S. District Court, Central District of California, No. 2:10-09967.
Sony, Sandisk and Nikon have proposed specifications for the next generation CompactFlash storage card.
Professional photography and High Definition (HD) video applications require a new generation of memory cards capable of processing significantly larger files. To address the imaging industry's future speed and capacity demands, SanDisk, Sony and Nikon proposed a new card specification whose performance and storage capabilities surpass those of existing memory cards. Once accepted, the new format will enable exciting new possibilities in the professional imaging and video markets.
The new specifications have the potential to extend theoretical maximum capacities beyond 2 terabytes (TB), yet remain similar in size to a regular CompactFlash card.
The proposed specifications achieve data transfer rates of up to 500 megabytes per second (MB/sec) using the highly versatile PCI Express interface. In comparison, CF6.0, released in November 2010, offers maximum performance of up to 167MB/sec. The increased speeds will enable imaging and video applications that are impossible using the current CompactFlash specification's Parallel ATA (PATA)interface. This also means that your existing equipment will not be able to use this new format.
The faster speeds in the next generation CompactFlash will enable continuous burst shooting of massive RAW images. The enhanced performance also allows users to quickly transfer storage-intensive high-resolution photos and videos from the card to a computer. The specifications combine high-speed data transfer with low power consumption via a power scaling system to extend battery life.
The image above is a rendition and not an actual image of the final product. This story is an altered version of a Sony global press release.
Several weeks ago, Mobile Review wrote in depth piece about the Sony Ericsson XPERIA X12 (aka Anzu), which is the company's next major flagship phone and the spiritual successor to the XPERIA X10. The review is so extensive, you would almost swear for a moment that the device is on sale now, but in reality it hasn't been announced by SE yet! This is probably one of the most detailed leaks I've seen in all of my years of writing about Sony products.
Let's talk about hardware first and foremost.
The phone obviously looks like the X10, but is thinner, lighter and has a bigger screen. The X12 will contain a Qualcomm MSM7230 (Scorpion) processor, which is a 800MHz ARMv7 that is capable of reaching 1GHz according to the processor spec sheet. The processor's features include an embedded DSP(GSM, GPRS, EDGE, UMTS/WCDMA, HSDPA 14.4Mbps, HSUPA 5.76Mbps baseband), Embedded gpsOne GPS module, gpsOneXTRA Assistance, Dedicated audio subsystem supporting 5.1 surround, 12-megapixel camera support, Integrated 2D/3D graphics GPUs with support for OpenGL ES 2.0, OpenVG 1.1.
XPERIA X10 owners may wonder why the next phone in this series may have less MHz, but it actually is an improvement, as Mobile Review states the phone "..offers a smoother and more optimized operation, with all the graphic elements of Android presented without any lagging of any kind. The chipsets multimedia capabilities are equal to the ones offered by the QSD8250 but with some improvements. The chipset can now encodes 720p video in H264 smoothly and offers increased playback times for both audio and video while being optimized for decoding DIVX and XVID videos." It will also have HDMI output to enjoy HD video on your TV, etc.
The camera will most likely be a 12 megapixel sensor and capable of recording 720p video, which Mobile Review states will be much smoother and reliable than the X10. The screen is massive at 4.3″ (854×480) and will support multitouch technology, a feature that was painfully missing from the X10. It is believed that the X12 will not have an AMOLED nor a S-LCD, which is rather unfortunate. DPI is suggested to be around 240, at least in the pre-production unit that was tested.
As for software, the X12 will most likely launch with with Android 2.2 (Froyo) and will recieve a 2.3 update in the summer of 2011. This could frustrate potential owners of this device, but Mobile Review seems more optimistic as they say "for Sony Ericsson, being just one OS version behind the others on the release date of X12 is a step forward." A rather sarcastic remark, considering the company had sold devices with Android 1.6 for way too long.
Unfortunately Mobile Review has a rather grim outlook for the company and the success of the XPERIA X12, and went on to say:
"So what's left for Sony Ericsson and the X12? Some of the momentum created years ago in many markets still holds in some of them at least enough for the networks and local retail stores to trust Sony Ericsson and buy one of their devices. This momentum is slowing down in some markets and in others it has completely stopped. X12 will only help stopping in more of them and will leave Sony Ericsson lagging behind even more. A device that could easily have been a decent middle range solution (much like Desire Z is for HTC) is thrown into the market to be eaten at the top end and take down the company with it. Its price tag will not be justified with its features in any possible way and the software disadvantages will only disappoint the buyers of the device."
We wanted to take another look at Sony Ericsson LiveView, which is a micro display the company announced several months ago. The low-cost, thin, low weight 1.3 inch color OLED display (128×128) is crisp and can provide information from your Android phone through a bluetooth connection. It recently went on sale in several countries in Europe, and will eventually be available in the coming months around the world. Sony Ericsson is quick to state that its compatible with of course their XPERIA X10, X10 Mini, and X10 Mini Pro phones but it's also compatible with many other phones running Android 2.0.
With LiveView, you don't have to take your phone out of your pocket to check up on the usual suspects, such as texts, e-mails, and Facebook/Twitter statuses. Its all available in this tiny display, which has much more functionality than you think. In some ways, its that geeky watch I've always been looking for, and the four day battery life is not too shabby especially when it can be recharged very easily via the common MicroUSB cord. Sony Ericsson even knows they have created the ultimate Android accessory, a watch, by including a wrist strap when you buy the device. Cost? Less than $50-75 equivalent in most European countries, so the outlook is good here for a similar price range.
I currently have an iPhone 4, but when I switch over to Android (the PSP Phone) this will be a must have.
The features are great and keep expanding. Here's an idea:
Music player control
Play, pause, next, previous track and volume adjustment
Track title display
Social Networking Services
Display Facebook™ updates
Display Twitter™ updates
Messaging/Web
Display incoming texts
Display RSS feeds
Calls
Show phone number for incoming calls
Mute ringer for incoming phone calls
List of missed calls
Other
Calendar reminders
Find your phone
Display time and date
What's really neat is Sony Ericsson is not letting this turn out to be a one-trick pony, as there will be more apps for the device in the future. Finding LiveView-enabled apps will also be a breeze, according to the official press release:
To find Sony Ericsson LiveView enabled applications, Sony Ericsson has developed the Sony Ericsson LiveWare Manager application. It will scan Android Market for Sony Ericsson LiveView enabled applications and present them to the user. The Sony Ericsson LiveWare manager will be available from Android Market, or come preinstalled in phone bundles.
Sony Ericsson UK has a brief LiveView compatibility list (which is in no way complete, just merely an example):
Samsung Galaxy S
Samsung Galaxy S 2.1
HTC Desire
HTC Desire 2.2
HTC Desire Z 2.2
HTC Nexus One 2.2
HTC Wildfire 2.1
Motorola Milestone 2.0.1
Motorola Milestone XT720
The Internet is buzzing this morning about a random YouTube video that popped up that shows a quick spec sheet of two new Sony Ericsson Windows Phone 7 devices. The phones are called the XPERIA X7 and XPERIA X7 Mini, which are somewhat similar to the current XPERIA X10 and X10 Mini Android phones. While we have been expecting some sort of indication from SE about upcoming WP7 devices, we're not exactly sure how credible these "leaked" devices appear to be.
There are several inconsistencies in the rumor that makes me scratch my head. The XPERIA X7 is labeled to have a 480×800 (WVGA) resolution and 4.3″ capacitive touchscreen. That all checks out and seems logical for a 2011 phone. The Qualcomm MSM8260 (1.2GHz) also seems in line with what will be commonplace for smartphones at that time. However, a problem arises when I see the 8.1 megapixel camera with HD (720p) video recording. I'll explain why in a moment.
The XPERIA X7 Mini supposedly has a smaller capacitive touchscreen at 3.5″ (not very Mini), and a Qualcomm QSD8250 (1GHz) processor. Those two specifications seem reasonable. However, I tripped up when I saw that the X7 Mini will supposedly have a 10.1 megapixel camera (with 3x optical zoom), which is certainly more powerful than the regular X7. Furthermore, in the slide for the X7 Mini it has a rather noticeable typo: "Noise cancellation headphones budled." Really? Hard to believe there would be a typo in a document like this.
I do want to reiterate that we expect some kind of word from Sony Ericsson about Windows Phone 7 devices, but we're just not sure if these are going to be it. I wouldn't expect the specifications of the real devices to be much different than what is presented here.
Here is the video that started it all: